Music
Listen to Dans les arbres' releases here
______________________________________________________________________________
Dans les arbres & Yumiko Tanaka
LIVE in Tokyo (DLA self release on Bandcamp)
Release April, 2020
This album includes music from Dans les arbres' performance in Tokyo in 2013, during their second visit to Japan. Yumiko Tanaka joined the quartet as a special guest on this performance.
Recorded LIVE at Koen-dori Classics in Shibuya, Tokyo 7th April 2013
Recorded, mixed and mastered by Ivar Grydeland
Yumiko Tanaka – shamisen, electric taisho-koto, voice
Xavier Charles – clarinet, harmonica
Ivar Grydeland – electric guitar, banjo
Christian Wallumrød – piano, harmonium
Ingar Zach – gran cassa, percussion
Music by Dans les arbres & Yumiko Tanaka © TONO/SACEM
______________________________________________________________________________
Mausoleum (DLA self release on Bandcamp)
Release November, 2019
Dans les arbres' first self-release on their Bandcamp profile only. Available as download and one track as streaming (24 bit / 96 kHz wavs, flac, mp3)
Recorded LIVE in Emanuel Vigeland's dark and reverberant mausoleum in Oslo, Norway on 14th October 2018
Recorded, mixed and mastered by Ivar Grydeland
Xavier Charles – clarinet
Ivar Grydeland – pedal steel guitar
Christian Wallumrød – synth, drum machine, electronics
Ingar Zach – timpani, percussion, electronics
Music by Dans les arbres © TONO/SACEM
______________________________________________________________________________
Volatil (SOFA576)
Release October, 2019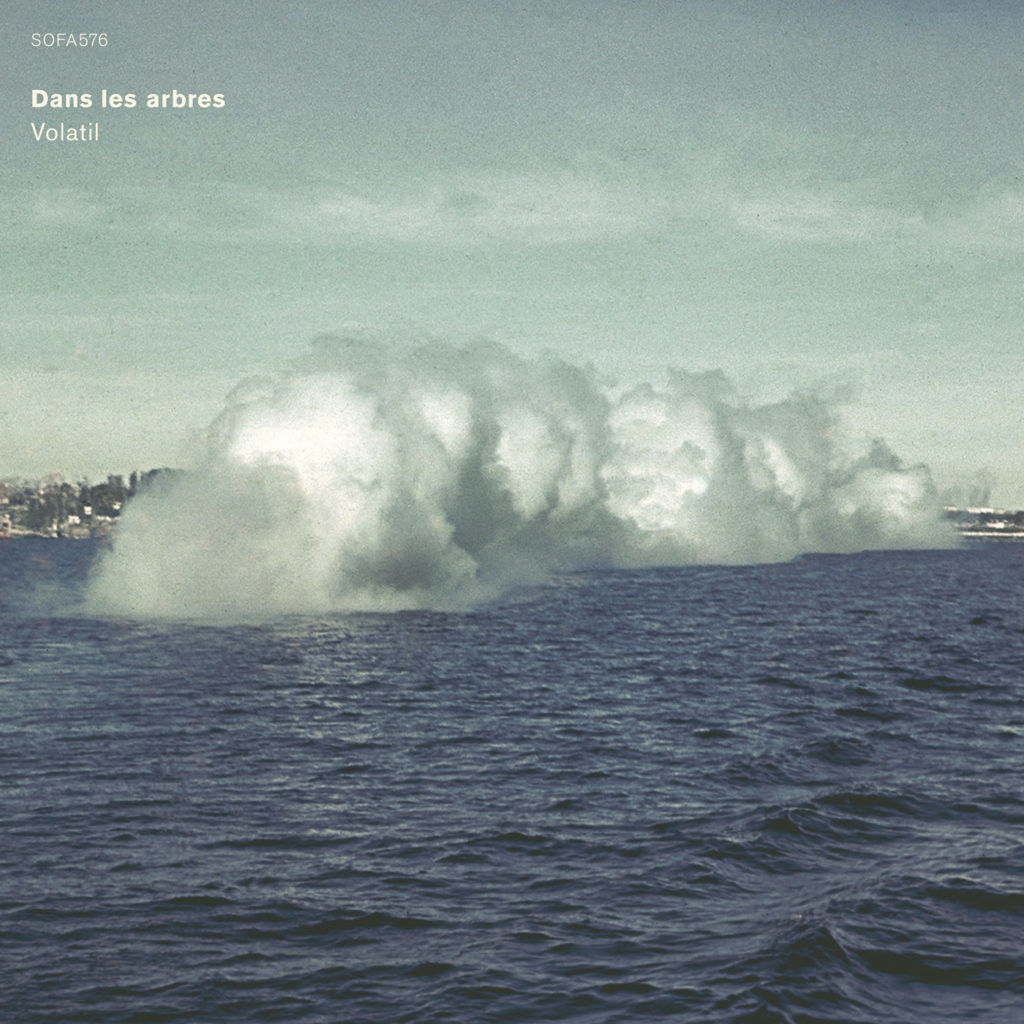 (When) is there a beginning? Exhalations and churning. A drop, falling, the distillation of a sounding-thought-action, entry and exit. Wood is a stopping sound, absorbent, sprung, splintered or yielding; metal is an extending sound, surfaced, calling. They speak across volumes of air, fluttering back and forth, exchanging softness and brittle edges, decays and quiet steps.
Ratchets and alarms are heard among the trees, crackle and creature squeal. An antler probes, pushes; a twig snaps; a sucker opens, undulates, grips; an arrow pierces air, stabs through nothingness. Sinuosity meets detonation, long curves entwining the woodpecker, the exploding seed pod, the fall of ripe fruits and dry leaves onto a twilight floor. Footprints are audible, if only through the heart rate of the listener.
What was once beautiful in its correspondences, its telegrams and thought beams of sound matter, pulls inexorably to a new place of cries and whispers. Now sound is illumination and time, weightless and clear without markers or sharp edges, prising open the stickiness of things, dying light rattled by shadows. Like birds of giant beaks, ritual dances, iridescent wings, harsh cries, sudden flight, the delicate placement of anisodactyl toes into wet mud as if writing secret spells and formulae for decipherment in a distant future, a swarming comes into being, its undulations and intensities gradually obscured my mists and vapour. The hours are held as if time is visible, a sponge to be squeezed and stretched in the hands, gently releasing moisture, giving itself to new shapes. Without water there is scrub and desert, dry cuts and releases, hard vertebrae, prints in dust, thin emissions from the ears. Spiders scuttle over rocks through folds of night. Like monstrous crickets, the trees stridulate, their music ancestral and mysterious. There is no magic without the question of an ending with no end. – David Toop
Their fourth album, "Volatil", is documenting Dans les arbres for the first time in a live situation. The ensemble's previous albums; "Dans les arbres" (ECM, 2008), "Canopée" (ECM, 2012) and "Phosphorescence" (HUBRO, 2017) are all recordings made in a studio or on location. "Volatil" is an unedited live performance from Teatro San Leonardo in Bologna (Italy, 2018) – a recording that captures the work of the ensemble in its natural habitat. "Volatil" is a strikingly well-documented example of the quartet's capacity to shape hour-long intense musical dramas. The listener will recognize this significant sound-world, which has been praised worldwide.
Xavier Charles – clarinet
Ivar Grydeland – guitar
Christian Wallumrød – piano
Ingar Zach – percussion
Composed by Dans les arbres (TONO/N©B, SACEM)
Produced by Dans les arbres
Recorded by Roberto Salvati on March 16, 2018 at Centro di Ricerca Musicale, Teatro San Leonardo, Bologna, Italy
Mixed by Ivar Grydeland
Mastered by Giuseppe Ielasi
Photos by Guillaume Greff / sa-kuva
Layout and design by Rutger Zuydervelt
Special thanks to Luca Vitali and Massimo Simonini
Order CD here
Stream and buy high-resolution files here
______________________________________________________________________________
Phosphorescence (Hubro CD2581/LP3578)
Release February, 2017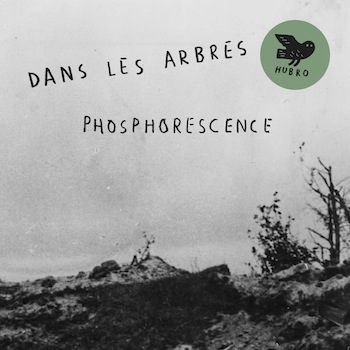 Dans les arbres' third album, 'Phosphorescence' moves away from its predecessors' aesthetic context of contemporary improvised chamber music performed on acoustic instruments towards a more mixed economy of means, with some electronic processing, amplification (of the prepared piano and guitar) and real-time sampling added to the repertoire of sounds familiar from the first two recordings. Recorded at Isitart, "the studio in a forest" in rural Sweden south of Oslo, it's tempting to see 'Phosphorescence' as in some way a more relaxed, even bucolic production, but this may not be the case at all. Indeed, the four compositions/improvisations that comprise 'Phosphorescence' are as nervous and unsettling as they are consolingly 'ambient', although the pieces work well listened to inattentively, like edgy 'furniture music'. The clarity of the mix and mastering is especially important, helping to create an almost three-dimensional depth and transparency to the sound, and emphasising the tension between the acoustic and electronic elements.
But what is most apparent in 'Phospherescence' is how masterful the four members of the collective have now become, and how intensely focused in their work, secure in the group's identity as a kind of modest 'supergroup' making absolutely contemporary music that's totally unlike that of anyone else. Even the range of sounds they choose to inhabit has taken on a satisfying sense of familiarity: Dans les arbres make Dans les arbres music out of Dans les arbres sounds. It is, all in all, a considerable achievement.
Philip Johnson
Xavier Charles: clarinet
Ivar Grydeland: electric guitars, real time sampling
Christian Wallumrød: amplified prepared piano, synthesizer
Ingar Zach: gran cassa, percussion
Recorded August 2015 in Isitart, Sweden by Peder Kjellsby and Sjur Miljeteig
Mixed January 2016 in Ampertone, Oslo by Johnny Skalleberg, Christian Wallumrød and Ivar Grydeland
Mastered August 2016 at Audio Virus Lab by Helge Sten
All music composed by Dans les arbres (TONO/N©B, SACEM)
Produced by Dans les arbres
Order vinyl or CD here
Stream and buy high-resolution files here
______________________________________________________________________________
Canopée (ECM2278)
Release June, 2012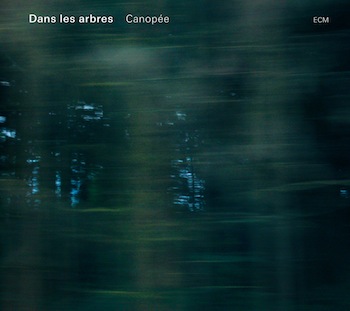 «Dans les arbres – the unique improvising quartet comprising three Norwegians and a Frenchman – continues to fine-tune its artistic concept, patiently traversing its luminous planes of sound with a rare sense of accord, and shared responsibilities. The combination of its unorthodox sound sources, including Charles's clarinet harmonics, Wallumrød's prepared piano, Grydeland's bowed banjo, and Zach's differentiated gran casa playing has led to free playing and spontaneous group-composing in a class of its own. The group's ECM debut generated many rave reviews, with England's The Wire declaring "There's no end to the delights of this quite magical disc." The magic is intact on "Canopée", recorded in June 2010 and April 2011 in Oslo.»
Xavier Charles: clarinet, harmonica
Ivar Grydeland: electric guitar, banjo, sruti box
Christian Wallumrød: prepared piano, harmonium
Ingar Zach: gran cassa, percussion
Recorded in June 2010 and April 2011 at Biermannsgården and Cafeteateret, Oslo – Norway
Engineer Thomas Hukkelberg
All music composed by Dans les arbres (TONO/N©B, SACEM)
Produced by Dans les arbres
Listen and read more here
______________________________________________________________________________
Dans les arbres (ECM2058)
Release April, 2008 (Europe) – November, 2010 (North America)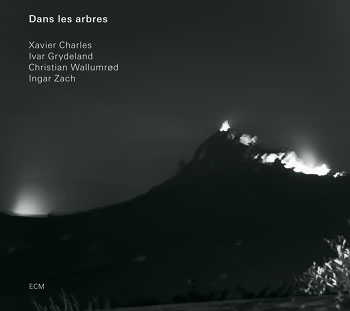 «There's no end to the delights of this quite magical disc. The finest composition, like improvisation, ultimately relies on intuition, and these players seem to have an innate grasp of the right combination of sounds and textures. Dans les arbres must be one of the finest ECM Improv releases – indeed, releases from any label – in recent years.» Andy Hamilton, The Wire
Xavier Charles: clarinet, harmonica
Ivar Grydeland: acoustic guitar, banjo, sruti box
Christian Wallumrød: piano
Ingar Zach: gran cassa, percussion
Recorded in July, 2006 at Festiviteten, Eidsvoll – Norway
Mixed and mastered by Thomas Hukkelberg
All music composed by Dans les arbres (TONO/N©B, SACEM)
Produced by Dans les arbres
Listen and read more here